How To Listen To and Observe Birds
Submitted by
Gitie
on 6 May, 2010 - 10:42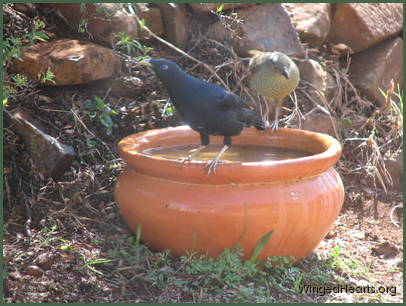 Communicating successfully with someone from a different species, who is not only not dependent on you, but also flies off in a flash if they don't like the sound of your voice, brings its own suite of challenges. In this series, we look at each of the five major aspects of communicating with wild birds.  These involve making them familiar with our speech patterns, listening to learn, understanding our bird's response, building trust, and allowing the friendship to develop.  In the previous issue we covered the importance of making the wild birds feel comfortable in your presence, showing them that you care about their welfare and wish to make friends.  
 
In this article we look at the art of listening to the birds.  Listening is much more than just enjoying their songs.  True listening requires us to understand the information they are trying to convey in their language to their family, community, intruders and also their friends which now hopefully includes you. 
Click here for the rest of the article.
Bookmark/Search this post with